Shaping, driving and acting responsibly
I have more than 25 years of management experience. This is my basis for taking on challenging tasks and complex projects in the capacity of a partner, on the management board or as head of department.
Fellow companions describe me as a person with substantial creative power and the ultimate orientation towards goals. My comprehensive knowledge and many years of experience across the entire spectrum of communication enables me to be an innovator, an advisor and a discussion and sparring partner "on an equal footing".
Respectful interaction with everyone in my environment is essential for me and the key to successful cooperation. This is how I succeed in inspiring, motivating and engaging people at all hierarchical levels.
My guiding principle: "Let´s walk the talk!"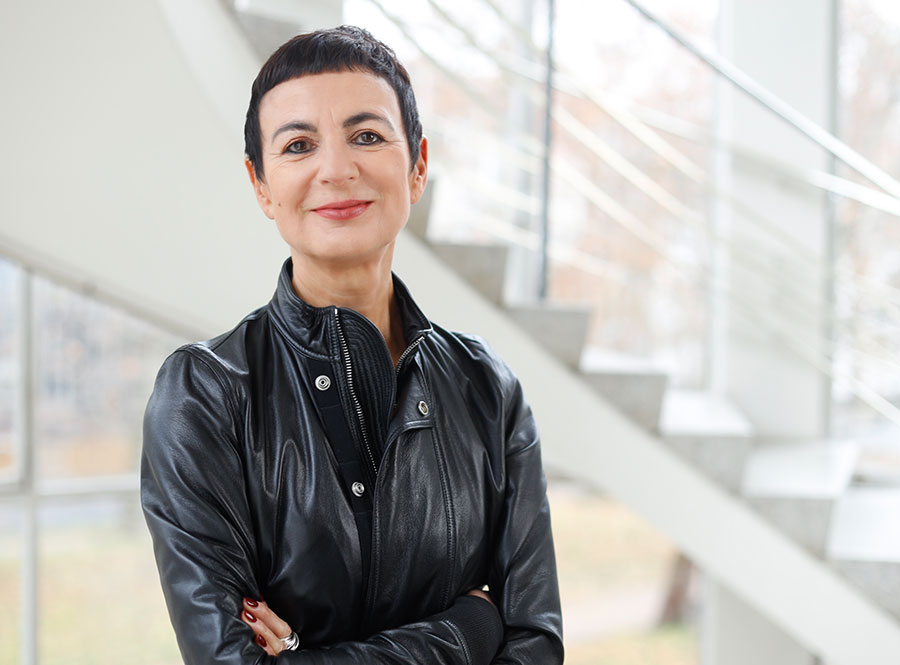 Current further education

Qualified Supervisory Board Member
Deutsche Börse AG, 2020

Certified Mediator
Justus-Liebig University Giessen, 2019 – 2020

Executive MBA Frankfurt School of Finance & Management, 2016 – 2018
Interim Management & Consulting
Advanced Bitcoin Technologies AG
Frankfurt am Main / Germany
since September 2020 – December 2021
Positioning of company and its management
Press spokesperson
Media relations – Annual General Meeting
Kommunalkredit Austria AG 
Vienna / Austria
January 2020 – November 2020

Structure and set-up of a new website
Development of website content
2015 – 2019
Communications Manager & Press Spokesperson
European Insurance and Occupational Pensions Authority (EIOPA), Frankfurt am Main – Germany
Positioning of the Authority and its Management (C-Level)
Ensuring business continuity within existing resources (budget and staff)
Head of the Communications Team
Principe Press Officer
2013 – 2015
Managing Director – Head of Communications Germany & Coordinator of Global Press Relations.
Deutsche Bank AG, Frankfurt am Main – Germany
Developed and implemented strategic media relations for the areas of Global Transaction Banking, Investment Bank, Private and Business Clients, Asset and Wealth Management and Human Resources
Head of the Communications Team Germany
Principal Press Officer
1999 – 2013
Head of the Press and Information Division
European Central Bank, Frankfurt am Main – Germany
Development and implementation of the communications functions within the organisational setup of the European Central Bank (without benchmarking)
Development, strengthening and promotion of a sustainable international network of all stakeholders (stakeholder relations)
Positioning of the Authority and its Management (C-Level)
Head of the Press and Information Division
Principal Press Officer
Diversity counts. It leads to better decisions and results for all.
Memberships & Involvement
DDIM – Dachgesellschaft Deutsches Interim Management e.V.
DDIM is the leading industry representative for professional interim management in Germany. The main tasks of the professional and trade association are to safeguard the economic interests of its members and to sustainably promote interim management in Germany. DDIM defines professional standards, promotes quality assurance and supports the transfer of knowledge among its members. Being a member of the umbrella organisation is considered proof of high quality and competence in interim management.
"Avoid the status quo! Be open to new things! Stay curious! Therefore, knowledge transfer and sparring partners at eye level are essential for me in order not to stand still and to always stay up to date in my assignments as interim manager. This is what DDIM offers, and not only in the field of communication; that is why I decided to become a member."
FidAR – The initiative for more women on supervisory boards
FidAR – Frauen in die Aufsichtsräte e. V. (Women on Supervisory Boards) is a non-partisan and supra-regional initiative that was launched in 2006 by women in leading positions in business, science and politics. FidAR aims to achieve a sustainable increase in the proportion of women on supervisory boards of German companies and to improve corporate governance. The goal of the initiative is equal representation in all management positions in the German economy. FidAR pursues these goals in close exchange with business, politics, science and in cooperation with relevant business and women's associations.
"Improving corporate governance requires diversity on boards. FidAR fights for parity in the composition on these boards, as this does not yet happen by itself. With my membership I stand up to achieve diversity: getting away from "men for men" towards "women and men for women and men", with equal rights!"
Das Female Board Pool
The Female Board Pool is a local initiative, supported by the non-profit MCMC a.s.b.l., connected internationally and founded on the research of the Centre for Corporate Governance at the University of St. Gall, Switzerland. The Female Board Pool has more than 700 profiles of "board-ready" or "board-experienced" women from all sectors: private, public and non-profit associations, asserting skills and experiences in all aspects. It is an initiative since 2010 endorsed by the Luxembourg Ministry of Equal opportunities and in meantime run in Luxembourg, Germany, Austria, Belgium, the Netherlands and Denmark.
The valuable potential of women is still being underused on board of directors. The Female Board Pool's goal is to considerably increase the proportion of competent and dedicated women on the boards of directors of companies to bolster its effectiveness.
The Female Board Pool aims
to highlight the available competencies and potentials for all sectors as well as private and public corporations
to create a targeted and sustainable network
to promote competence by providing visibility
to create contacts beyond the beaten paths for the benefit of companies and organisations
"Women neither want to meet the quota nor do they want to displace qualified men. We want to take responsibility, shape value-oriented leadership, bring in our talents and thus generate added value for the entire society. In doing so, women should support women. The Female Board Pool, to me, implements this goal consistently and with passion."

Federal Association MEDIATION e.V.
The Bundesverband MEDIATION (BM) was founded in 1992 and is the mediation association with the largest membership in Europe. The BM promotes the professionalisation of mediation. It is involved in legislative procedures, prescribes standards for the various contexts of mediation and ensures qualified mediation education. The BM's goal is the permanent further advancement of methods to promote understanding in conflicts in all areas of society.
"As a passionate mediator, I want to support the process of professionalising mediation with my membership. Exchange with colleagues –also supervision – is a prerequisite for successful mediation."
IABC – International Association of Business Communicators
IABC is the only global association that connects communications professionals with the people and insights they need to get results.
"Achieving good results requires vision. IABC offers countless opportunities to keep an open mind and to think not just nationally and locally but internationally."
GWPR – Global Women in Public Relations
GWPR Germany is a network of experienced female communicators who work in companies, agencies, consultancies, associations, with service providers or independently. GWPR Germany is part of the international umbrella organisation GWPR, founded in the United Kingdom in 2015 and offers a network beyond German borders. GWPR Germany was created in January 2018 by 14 founding members as a non-profit association. It is financed through memberships or sponsoring memberships.
"The motto "Connecting and supporting women in public relations around the world" inspired me. With my membership I want to support this goal and to contribute to the dialogue and network."
Frankfurt School of Finance & Management
The one-to-one mentoring programme at Frankfurt School is aimed at all students of the Bachelor of Arts, Bachelor of Science and Management programmes. An FS graduate (as mentor) accompanies a student for two semesters. The mentor and student form a tandem.
The aim is to support students in their development. Mentees receive assistance with decision making, constructive feedback and learn the unwritten rules of the game.
"It became to me a mission helping young people to understand the impact of decisions taken today for the rest of their lives. Sharing with them my experience, supporting them to find their way, not to save them, is rewarding. My mentees learn, but equally do I."
House of Mentors
House of Mentors is a non-profit organisation that was founded in Frankfurt more than 10 years ago as a purely private initiative. It supports students and their ideas individually and in a sustainable way. The House of Mentors is not a finance-oriented incubator looking for new start-ups. The focus of its work is the development and organisation of pan-European competitions and presentations for mentors, mentees and sponsors.
"I want to pass on my personal and professional experiences to the younger generations – to the next generation – and by that encouraging mentees to engage in political, social and economic dialogues. To venture into innovation, even if it gets bumpy."
beramí vocational integration e.V.
Since 1990, beramí e.V. has helped individuals with migration experience in their development of a professional perspective. Openness and respect for the particular cultural identity and the recognition of individuality and diversity characterise the corporate culture of this organisation. beramí is a thought leader in the realisation of projects that support migrants in achieving professional and social participation, thereby setting positive and lasting accents for a diverse society.
"Supporting women in re-entering the labour market and gaining professional perspectives is nothing but enriching. The effort is always rewarding, even if there are hurdles to overcome along the way."